Best Lehenga Choli Designs for 2023
A lehenga choli is an expression of personal style, allowing you to flaunt intricate designs or modern Indo-Western styles with pride. No wonder it is the outfit of choice for Indian brides and her close family. For many women, the lehenga choli is the preferred ethnic wear outfit for festive and special occasions due to its beauty and ease of use.
Designers consider the lehenga choli for girls as the ideal blank canvas they can use to express their creative side with the help of embroidery, embellishments, digital designs, styles, and whatnot. In this post, we'll see some of the latest style trends lehenga choli designers have used in 2023.
Lehenga with jackets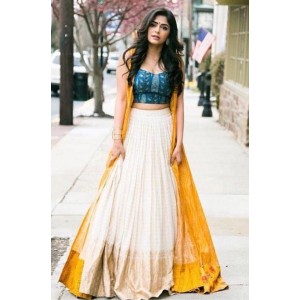 Western influences have blended quite well with the lehenga choli designs to come up with Indo-Western silhouettes like the lehenga with jacket trends. Designers use a jacket to add a videshi tadka to the Indian ensemble, in the form of a design or colour that contrasts with the overall look of the lehenga choli.
Floral design lehengas
The floral design has time and again proved its versatility with any lehenga choli silhouette. For designers, the main creative challenge is to create unique floral patterns on various fabrics that can create a flattering look.
Pastel Lehengas 
Although you get readymade lehenga cholis in pastel colours, not all of them are designed to stand out. Using Pastel colours for lehenga cholis is not new, latest bridal lehenga dupatta draping style take into consideration the whole outfit along with the jewellery, accessories, makeup, and hairdo to give an amazing pastel look to brides or festive partygoers.
Velvet Lehengas 
 Velvet is a favourite material for party wear girls' lehenga choli. There is a high demand from women of all ages to create velvet-based lehenga cholis for special occasions and festivals. Designers use the best of exquisite embroidery and artwork to create stunning velvet lehenga masterpieces that stand out from the rest.
Light Lehengas
Not every guest likes to wear embroidered or embellished lehengas. Many women love lightly designed lehengas that can be reused or repurposed later. To cater to this demand, designers are coming up with contemporary design trends that help enhance the woman's silhouette.
Minimalist Lehengas 
The minimalism trend has caught fire across the world. Women now see simple coloured lehengas with a statement jewellery piece as a great option to wear to any wedding function or celebration. After all, some women are put off by the excessive embroidery done on many lehengas.
Across all the seasons of 2023, lehenga choli designers have gone all out and come up with some really admirable designs that are the envy of many.  However, this does not mean you cannot get the latest lehenga choli designs- you just need to keep your eyes open and search online for the best lehenga choli, just as you get
kids' lehenga choli
at Fashion Dream.